Acetaia Castelli is a family-run company where the passion for aged balsamic vinegar abides for more than a century. It is rooted in past generations.
Beans poured soup with shrimps scented "DODICI CASTELLI"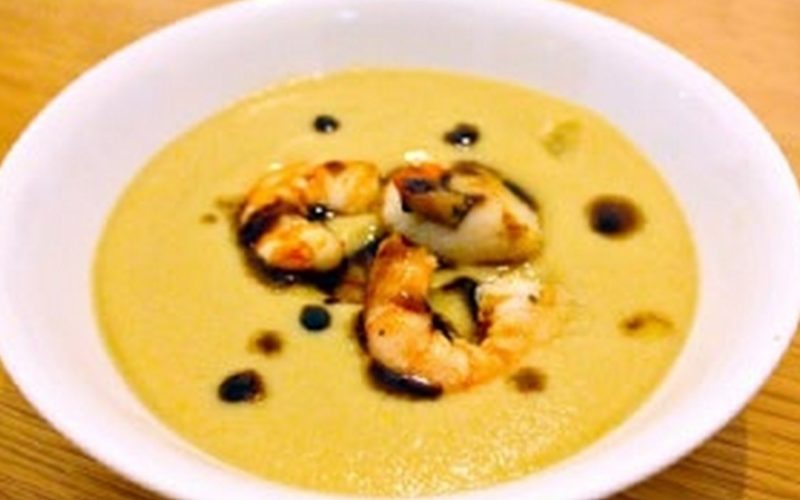 Ingredients:
300 g of dry beans
1 laurel leaf
½ litre vegetable broth
12 shrimps
1 shallot
1 slice garlic
a little twig of fresh rosemary
salt, pepper
1 glass of Calvados
extra virgin olive oil and some drops of "DODICI CASTELLI"
The evening before, dunk in abundant water the beans. The day after, drain and give a wash. Put in a pot 5 spoonfuls of oil and make stew sweetly the cut shallot and the garlic. After 5 minutes, with sweet flame, put in the pot the beans, spice with salt, pepper and 1 laurel leaf, cover with two glasses broth and cook for 30 minutes. At the end of the cooking, eliminate the laurel leaf, put the beans in the mixer to obtain a creamy poured soup, regulate the density with another broth and cooking for other 5 minutes. Meanwhile wash the shrimps, remove the carapace and the little intestines. Warm in a pan 4 spoonfuls of oil and spice with rosemary. Put the shrimps in the pan after spicing them with salt and pepper, after two minutes simmer with calvados and cook for other two minutes. Put the pouring soup into the plates, lay down the shrimps and leave on the pouring soup some drops of "DODICI CASTELLI".